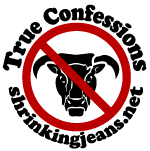 I have a confession to make.... I have a very hard time getting out of bed in the morning...
For the last few years I have had such difficulty just wanting to get out of bed. I was always one that could sleep all day if you would let me. One of my main issues that I have been trying to work on is getting out of bed early in the morning. I set both my alarm clock and the alarm on my phone and I just seem to let them go on and on or reach over and hit the snooze button. This all started a year or two after I came down with high blood pressure and just has progressively gotten worse. I was finally diagnosed with hypothyroidism a little over a year ago and have been on synthroid for it. I have overall felt a lot better, but I still have the issue of getting out of bed. Once I am out I am usually fine to go about the day with energy. Does anyone have any suggestions or ideas to help me get out of bed? I would truly appreciate it. If I could force myself out bright and early then maybe my day won't seem as crazy trying to get everything in.
I just have no ambition in the morning. Please help....