I just came accross this great blog hop! It's #FitFriendsFriday! Check it out!
Building a support system is really important when you are trying to make a lifestyle change. I received an amazing amount of support from people that I met online, both while I was striving to lose weight and while training for my first half marathon. Now that I'm gearing up to lose more weight and for a new race season, I would like to expand that network.
So, if you have a blog that focuses on your personal journey towards fitness, weightloss or living a healthy lifestyle and you would like some support, join the Fit Friends Friday Blog Hop and find your fitspiration!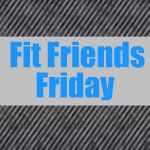 How it works:
✿Follow my blog and leave a comment on this post so that I can follow you back.
✿Blog or tweet (or both) about Fit Friends Friday (see below)
✿Add your blog name and blog URL to the linky below.
✿Follow as many blogs from the list as you like and be sure to leave a comment on each one, letting them know that you are a new follower so that they can follow you back. It would be really nice if you follow anyone who follows you from the hop back.
Blog or Tweet requirement:
✿Write a blog post about Fit Friends Friday. I would love it if you include the above button by copying the code in the box just below it.
-and/or-
✿Tweet about this linky. Feel free to use the following : "Need #fitness & #weightloss support? Join me & @CardioBunny at http://bit.ly/azfO0A for #FitFriendsFriday."